Intestines are known to be one of the root causes of most diseases, as 90% of diseases are found here. According to the theory of the Chinese Traditional Medicine, our body toxins often accumulate in the intestinal wall's folds which interfere the food digestion and the nutrients absorption. Besides, the toxins will contaminate the blood as well, leading to various diseases, such as tumor, cancer, uric acid, anemia, rheumatism, kidney disorders and many other diseases.
In order to prevent diseases, the three important steps to be followed include colon cleansing, regulation and replenishing is vital. Once toxin is eliminated from our body, our body's healing power can be improved, subsequently boost up the immune system.
FRACO Blend Fruits & Vegetables Powder is made up from several fruits pectin, vegetables and naturally high fiber (Pysllium Husk). It acts well as a lubricant, which helps the colon to become tender and soft, while strengthen the intestinal wall for better peristaltic process and excretion of toxins. It has been recognized as an excellent natural body cleanser.
FRACO Blend Fruits & Vegetables Powder is high in vitamin C, vitamin B, carotene and amino acids. It also enriched with minerals and trace elements, such as potassium, calcium, magnesium, phosphorus, iron and zinc. It is well known to increase appetite and enhance the gastrointestinal motility for a better digestion effect. Besides, FRACO Blend Fruits & Vegetables Powder contains bioflavonoid compound which is an excellent anti-cancer agent. Zinc also helps a lot in the intellectual development of the children and prevention of Alzheimer's disease.

Moreover, FRACO Blend Fruits & Vegetables Powder is also rich in pectin, which helps the skin to have adequate blood supply and nutrition, in order to maintain good elasticity. In addition, the cellulose helps to prevent constipation, hemorrhoids and colon cancer. Furthermore, it is very helpful in promoting blood circulation to remove blood stasis, soften blood vessels, increasing myocardial contraction, lowering cholesterol level and others related health problems.

According to Microbiology research, it is proven that the active probiotic which is mixed with plant fiber and vitamin can improve bowel function and clean up the substance of intestinal corruption, while enhancing the immune system.

FRACO Blend Fruits & Vegetables Powder is manufactured using the high-tech refining concentrated essence of natural fruits, vegetables and plant fiber, favorable taste, without any chemical and preservatives added, results in an excellent in vivo environment for human to clean up their guts.

Rich in 100,000,000,000 active spore probiotics.
Rich in 8500 of phyto calcium..
Rich in complex vegetable plant fiber.
Rich in vitamin B complex + vitamin C.
Does not contain any drug components.
Free of pesticides and heavy metals.
Does not contain any chemical additives.
Easily dissolve in water and great taste.
Facial and skin roughness, acne and pimple problem.
Long-term bad breath, hyperacidity (excess gastric acid), indigestion, upset stomach. Colon, rectum easily lead to cancer.
Loss of appetite, causing nerve function disorders, insomnia and other aggressive temper.
Obesity, high cholesterol, high blood pressure.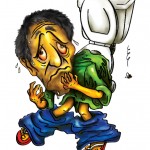 Food traces, pesticides and preservatives, nicotine and other chemical substances in gastrointestinal.
Putrefaction of excess animal fat in coprostasis and accumulated wastes.
Long-term of using laxatives, leading to intestinal dysfunction and mucosa damage.
Prevents constipation and promotes bowel movements, which helps coprostasis to be rapidly excreted.
Detoxifies our body and improves appearance, eliminates toxins from the body and protects the skin texture.
Assists in slimming, effectively reduces blood lipid and cholesterol absorption to remove excess fat.
Beneficial bacteria improve the ecological balance of the intestinal flora to effectively inhibit the harmful bacteria growth.
Enhances immune system to prevent the breeding and development of various diseases.
Students and individual with busy lifestyle.
Adult.
Children.
Constipation.
Those on diet.
Patient of chronic diseases.
1-2 packages a day, before meals, children half dosage. Add each packet to 200ml of cold water, consume immediately. Drinking plenty of water to increase metabolism.
My friend noticed the change in me and they were surprised. They thought I had undergone plastic surgery in order to have these amazing results.
What surprised me was that in just under two months, my pimples were gone and my face became vibrant. Since then I seldom visit beauty saloons.
After taking it for a month, I became more vibrant. My foot pain and bone spurs(Osteophytes) in knees faded slowly.